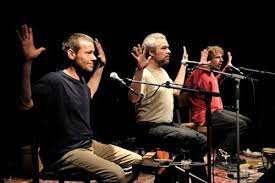 A free improvisation sextet , which combines acoustic and electronic improvisation with process-based theatrical structures. 
Stratocluster was formed in the summer of 2013 by Ian Mikyska (guitars, electronics, plastic bottles), Benjamin McGarr (saxophone, flute, piano), Jan Faix (no-input mixer, electronics, no-fi field recordings, tape recorders), Mikuláš Mrva (bass guitar, electronics, drums), Jan Kulka (drums, percussion), Tomáš Mika (guitar, piano, horn). Their first recording Tamanrasset was released by Signals from Arkaim netlabel.
Stratocluster played 6 concerts in the same line-up. Besides improvised music, concepts of visual improvisation with the use of an overhead projector also began to develop. Various other artists (Jorge Boehringer, Matthew Goodheart, Ondřej Komárek and Lucka Páchová) appeared as guest performers at these concerts. Stratocluster released a single with two selected excerpts from the concert within the Wakushoppu concert series through its profile on Bandzone under the name 'Hovna Laconic'.
In July 2014, Benoušek McGarr left Europe and was replaced by saxophonist Marcel Bárta. So far, three concerts have been played in this formation: a concert at the VS Interpretation Festival, concert series at the Institute of Intermedia of the Faculty of Electrical Engineering of the Czech Technical University and at the festival Alternativa 2014. Jabka Hrušky Meotary record release party took place in the Panoptikon - Barricade in Žižkov on March 10, 2015. The album was also released as a free download on the Czech-Finnish label Meteorismo.