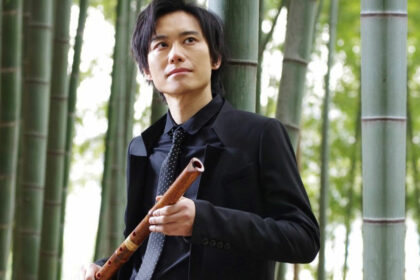 Dōzan Fujiwara is a superstar of contemporary shakuhachi. His charisma and a unique sound of his flute opened the door of many musical genres of Japanese music, jazz and pop for him.  After many years, the shakuhachi scene finally has a player, who is able to reach audiences of all generations.
In his Prague concert, he will present a series of captivating compositions for shakuhachi, koto and western instruments, as well as the European premiere of composer Dai Fujikura Shakuhachi Five for five shakuhachi and the fantastic opus Within Dreams, Without Dreams by Takashi Yoshimatsu.
The concert will also feature the world premiere of Jan Rösner's Verses and Words for solo shakuhachi by Mark Kimei Matvija.
In 2014 Dozan Fujiwara visited our festival, when he absolutely captivated our highly demanding international audience. This year, our festival features his concert as a part of the prestigious NEIRO Unlimited Series and will be entirely dedicated to the music of Dōzan Fujiwara. The supporting artist will be the virtuoso koto player Naoko Kikuchi, who presented herself in the NEIRO Unlimited series in 2017.