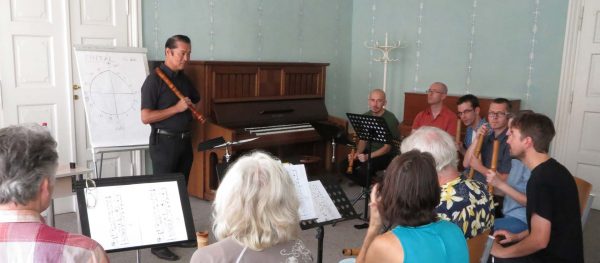 Kifu Mitsuhashi teaching
SHAKUHACHI WORKSHOPS
(60 - 90 minutes intervals)
Shakuhachi workshops are the most popular part of learning offered at the ISFP.  These workshops are suited ofr shakuhachi players from beginner to intermediate level (see player levels explained below).
Focusing on a single topic or a simple composition, the goal of workshops is to broaden the understanding of the instrument, its various traditions, notations and playing techniques. Topics like basic and advanced tone production, practice routines and learning methods are also addressed here. Specific classes on rhythm and improvisation are also offered. At ISFP 2021, the total of 16 shakuhachi workshops will be available.
Shakuhachi workshops are led from Friday 09. 10. 2021 9 am to Monday 09. 13. 2021 4 pm. 
Participation in group workshops is included in the ISFP SuperPASS and  ISFP Family SuperPASS. For details see the schedule below.