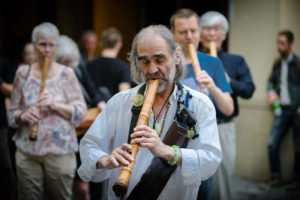 Help us improving the quality of the Prague Shakuhachi Festival. Enjoy the opportunity of bringing your friends to the festival for free. Be a significant part of an international community of shakuhachi, koto and shamisen players.
Become a lifetime member of ISFP Family Program
Here's the deal:
You give us 3000 CZK to become a lifetime member of the ISFP Family Program.
As a lifetime member you get 30% discount from the Festival Super Pass.
 We will consult you during the selection of pieces (and genres) which will be taught in the upcoming year of the event.
When you are coming to the festival you will be able to bring a friend who will be free to participate in any "hands on" course (this includes free entry to all festival concerts).
In order to keep your membership valid you need to attend ISFP at least once in two years.
We will like you a lot!
If you don't have the spare money to sponsor us, just show up! Knowing that people like our work is a huge boost to our morale.