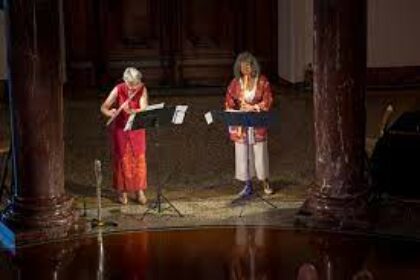 Hélène Seiyū Codjo, Dietmar Ippū Herriger, Vlastislav Matoušek, Martin Janíček
Prominent European shakuhachi players will present a blending of contemporary music and sounds from Japanese temples with a special guest, sculptures and sound artist Martin Janíček on his Japan-inspired industrial koto.  
The European shakuhachi player Hélène Seiyū Codjo) will present her compositions. Dietmar Ippū Herriger will play the music of the Icchoken temple where he spent many years studying. The unique ensemble of players led by the pioneer of shakuhachi in the Czech Republic Vlastislav Matoušek will play his world premier of CORONA MUNDI 4 Shakuhachi.